Click
here
to view and download a rental agreement form!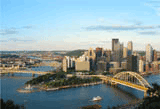 Welcome!
The Washington's Landing Marina, situated 2.5 miles from The Point on the Allegheny River in Pittsburgh, Pennsylvania, offers you full-service treatment for your watercraft at affordable rates year-round.
We are Pittsburgh's ONLY full service dry stack valet warehouse and marina! In addition, we offer a first class service department that will repair all types of engines, sterndrives, and waverunners.
Feel free to peruse our website, and if you have any questions or would like to learn more about how we can serve you, please feel free to contact us.
Washington's Landing Marina
100 Waterfront Drive
Pittsburgh, PA 15222
Main office: (412) 321-3600
Service Department: (412) 321-3774
Fax: (412) 321-1922