Click
here
to view and download a rental agreement form!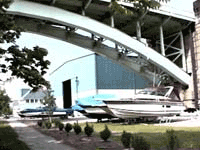 About Us
Washington's Landing, formerly known as "Herr's Island," has a deep and profound history.
George Washington reputedly slept on the island after his raft capsized in the Allegheny River while on a diplomatic mission to the the French at Fort Le Boeuf near Lake Erie during the French and Indian War. This story led to the renaming of the island on October 24, 1987.
Today, this area houses Pittsburgh's premier marina, featuring the finest in marina services:
» Dockage
» Wet Slips & Dry Stack Valet
» Winter Storage
» Indoor and Outdoor Trailer Storage
» Fuel
» Diesel
» First Class Service Department
Washington's Landing Marina
100 Waterfront Drive
Pittsburgh, PA 15222
Main office: (412) 321-3600
Service Department: (412) 321-3774
Fax: (412) 321-1922